An IMAP email account stores messages on the mail server, not on your computer. With IMAP you will have central storage for all of your mail and your archives, so you can access all your mail and mail folders, including sent items, drafts and archived messages, from any computer with an internet connection. The main disadvantage of checking email with IMAP is that you are limited to the allocated storage space on the server for that specific email account. Also, since your mail isn't saved to your computer it won't be possible to read emails if you don't have an internet connection.
Choose IMAP if you are checking from multiple computers or devices (like an iPhone).  If you check email from a single computer 90% of the time and/or regularly receive large attachments, you should instead set up your mail as a POP account. Instructions for that can be found here. To create and check an IMAP account with Apple's Mail application, follow the instructions below:
1. Login to the cPanel for your hosting package. Your login details are in your initial account setup email, which is saved for your convenience on this page. Or if you are already logged in to your PageUP Pro Client Portal, simply go to this page and click the "Quick Logins" tab, then click the button next to your domain name to open your hosting control panel.
2. Scroll down the page to the Email Management Tools section, then click the Add/Remove Email Account(s) Icon.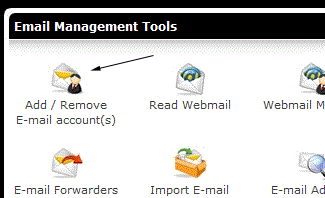 3. Scroll down the page until you see a list of your existing email addresses. Click More and then the Configure Mail Client link for the email address you want to setup in your Apple Mail.
4. On the next screen you will see a list of email programs and methods of checking email. Choose Auto-Configure Mac Mailapp for IMAP Access (SSL).
 

After you click that link, your browser will download the configure script.
5. Double click to unzip and then double click to run the script.
6. You will then see a dialog box asking you to confirm that you want to open the application. Then you will see a dialog box asking to run the script.  Click the Run button.

7. After the script has finished running, you will see messages confirming that the incoming IMAP email account was created successfully and the outgoing SMTP email account was created successfully.  Click OK for both and enter your email password when prompted.
8. Click on the  Mail menu at the top left of your screen. From the Mail menu select Preferences. Once in the Preferences pane, select Accounts. You should see your newly created account listed on the left.  If there is more than one account, click the account with your new email address as the description.

Click the drop down box next to Outgoing Mail Server (SMTP) and select Edit Server List... .
9. On the next pane, ensure that the Server Name: is set to the same server as your incoming mail server (both your incoming and your outgoing mail server should be mail.yourdomain.com, substituting your actual domain name).
10. Check the Advanced section of your Outgoing Mail Server settings and verify that Authentication is set to password. Â You should also verify that your username (which is your email address) and your email password are filled in. You can then close the preferences pane.
WARNING: If step 10 isn't done properly you will have problems sending email. Please make sure this step is completed.
11. If you see your Junk, Sent, and Trash as blue folder icons you need to sync your IMAP folders by following our instructions here.
Congratulations. Your Mail app is now setup to check your email address via IMAP. Â Now it would be a good idea to get in the habit of regularly archiving messages to prevent problems. Â Click here to learn how.